How to Tackle your Dental Anxiety
Dental Anxiety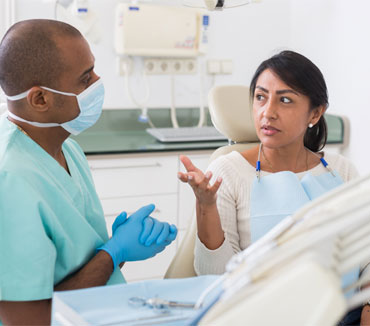 Do you feel anxious going to the dentist? If so, you're not the only one. Dental anxiety can be experienced by anyone at any age. Dental anxiety can be a common phenomenon and can be caused by many factors. For instance, some individuals may have had a negative dental experience in the past, some may fear experiencing pain, others may develop fear due to a loved one's fear of the dentist, or even the stress may be caused by the financial costs of dental treatment.
Dental anxiety can manifest as nervousness or stress prior to your dental visit, or trouble sleeping surrounding a dental appointment. In addition, some individuals may experience dental anxiety when certain dental materials are used, such as the drill or anesthetic needle. Some stress can even be triggered by the smell of the dental office.
Dental anxiety can lead people to avoid seeing the dentist and having necessary dental treatment performed. Consequently, when dental treatment is avoided, severe dental problems can arise which will also impact your overall health. On the bright side, dental anxiety can be managed and overcome.
How to deal with dental anxiety
One of the best ways to deal with dental anxiety is to inform your dentist of your fears and have an open discussion with them about your concerns. This way, your dentist can help make the dental environment more comfortable and make adjustments to meet your needs so that you can have a pleasant experience.
Know the procedure - talk to your dentist
Knowing more about the procedure that you need and what to expect can help make your dental appointment less stressful. Your dentist can answer any questions or concerns that you may have. Communication with your dentist and the dental staff can make your experience more relaxing.
Bring company if you can
If the dental practice allows, you may be able to have a company with you while your procedure is performed to help you feel more at ease. If unable to bring company inside, having them wait for you in the parking lot can also help relieve some anxiety knowing they are waiting for you once your procedure is completed.
Music helps
Distraction methods such as listening to music with headphones while you're at the dentist can help move your focus from the procedure onto things and sounds that make you happy. Music will also drown out sounds that may trigger anxiety, such as the drill.
Sedation dentistry
Some procedures may be able to be performed with sedatives, taking into consideration certain factors. Talk with your dentist to determine if options such as local anesthetics, nitrous oxide or "laughing gas", oral sedatives, or intravenous sedation are available and applicable to your procedure.
Need a break? - Use hand signals
Whenever you feel anxious or uncomfortable, a break may help. Talk to your dentist about using hand signals to communicate with them during a procedure to initiate when a break is needed.
Take medication if necessary
If experiencing intense fear or anxiety when visiting the dentist, talk with your health professional to see if medication is an option to help manage anxiety.
Read a book/ watch TV
Some dental offices have a television that can help shift your attention to relieve stress. Reading a book can also help lower your stress and keep your mind occupied on things other than the dental procedure.
Avoid caffeine before your visit
Say no to caffeine before your trip to the dentist, as caffeine can increase anxiety.
Follow a breathing exercise
Relaxation methods such as breathing exercises during dental procedures can be helpful. Try inhaling deep breaths and releasing them slowly to help relax your muscles and reduce stress levels.
Choose an appointment time that is less stressful
When making your next dental appointment, choose a time that works best for you where you won't be rushed or have a hectic day. Possibly choosing an early morning appointment can help.
Our doctors and dental specialists provide a wide range of dental services at our 40+ multi-specialty dental offices across Massachusetts and New Hampshire. Our dental team is compassionate, and our main goal is to provide you a comfortable, caring dental experience. Book an appointment at your local Gentle Dental today.