The importance of regular dental checkups
What happens during a dental checkup
Dental checkups may not sound like the most fun activity on your to-do list, but it definitely is extremely important to keep your overall health maintained. Keeping your teeth healthy plays an important role in maintaining your well-being. During your dental checkup, you will be welcomed into a warm and friendly environment. First, a patient coordinator will greet you and help you complete any needed paperwork for your visit. If you are a new patient, you will be required to fill out a new patient form, which can also be done online prior to your visit. You will then head to a dental operatory where your dental and medical history will be reviewed, as well as any of your dental concerns. A caring member of the dental team will then take x-rays if needed, which will be reviewed by the doctor. The dentist will perform a comprehensive exam along with an oral cancer screening and answer any questions you may have. The dental team will detect and diagnose any oral issues, such as dental cavities and gum disease. Based on your exam and x-rays, your dentist will discuss all treatment options, alternatives, and risks, and benefits to treatment. You will also be notified if any referral to a specialist is necessary. It is important to note that at your checkup you may not receive a cleaning during the same appointment, depending on your specific treatment plan.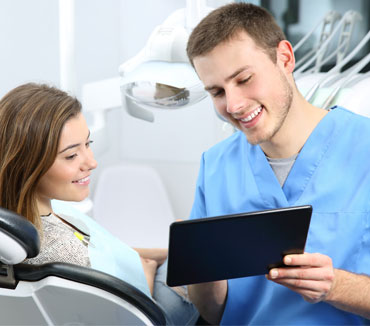 How often to visit the dentist's office
Typically, two dental visits are recommended per year for most patients. However, the American Dental Association recommends that you schedule regular checkup appointments at intervals determined by your dentist. More frequent checkups may be needed for individuals at high risk for cavities, gum disease, or individuals who have certain oral health conditions.
Benefits of regular dental checkups
Visiting the dentist for regular checkups is necessary to help maintain good oral health. This goes for all individuals regardless of whether you have natural teeth or replacement teeth.
Helps maintain oral health
The dental team will help you manage and prevent oral diseases, remove stains, and remove cavity-causing dental plaque.
Identifying problems early
Regular dental checkups allow for any problems to be identified and treated early before issues worsen. Your dentist will check for jaw and bite issues, tooth decay, gum disease, and other oral conditions.
Early orthodontic care for children
The American Association of Orthodontists recommends children have a checkup with an orthodontist specialist at the age of 7. Early orthodontic treatment is beneficial if jaw or bite issues are predicted to become more severe over time if untreated, as determined by the orthodontist. In addition, certain problems may be easier to solve when diagnosed and treated early. Early treatment may help eradicate dental and/or skeletal issues and guide the growth of the jawbones into the proper position. If orthodontic treatment is started before the eruption of all of the permanent teeth, a second phase of orthodontic treatment may be needed to place all of the teeth in their ideal positions.
Regular Professional care and advice
Your dental team is the best resource for how to best take care of your teeth, as they can provide you with valuable information tailored to address your specific dental needs. Professional advice with tips and discussions about lifestyle habits that also impact oral health, such as diet, can be had to help you maintain good oral health.
Our doctors and dental specialists provide a wide range of dental services at our 40+ multi-specialty dental offices across Massachusetts and New Hampshire. Our dental team is compassionate, and our main goal is to provide you a comfortable, caring dental experience. Book an appointment at your local Gentle Dental today.