Top 3 Reasons To Get Invisalign® Treatment
What is Invisalign® Treatment?
Are you unsatisfied with your smile because of crowded or crooked teeth? You may be a candidate for Invisalign clear aligners. An invisible alternative to conventional metal braces, Invisalign uses clear aligners with state-of-the-art, computerized 3-D Invisalign technology to gently move your teeth.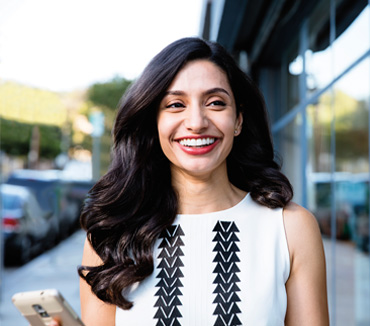 Whether you've been avoiding treatment because you don't want to commit to traditional metal braces, put off orthodontics treatment because it's not in your budget, or avoided it for any other reason, you've come to the right place. Gentle Dental offers a free consultation and incredibly affordable Invisalign treatment, tailored specifically for your needs.
When to get Invisalign Treatment
If you're an adult or teen looking for a virtually invisible method to improve your smile, Invisalign treatment can be a great solution. Invisalign clear aligners make it possible to fix nearly all common teeth-straightening and bite issues, simple or complex, without interfering with your busy life.
Here are the top 3 reasons you should get Invisalign clear aligners:
You want a solution that's easy to remove and clean, as well as a comfortable fit for your day-to-day life
You want lower restrictions on the food and beverages you can consume
You want a shorter treatment period to achieve your desired results
What to Expect When Getting Invisalign Treatment:
Patients who have Invisalign clear aligners should wear each set of their aligners for approximately two weeks. You may be required to wear your aligners for up to 22 hours a day. Once you have reached the six-week mark, your Orthodontist will ensure your treatment plan is on track. The duration of Invisalign treatment varies from patient to patient, but the results are often obtained within one year.
Gentle Dental orthodontists say, "The top reasons to get Invisalign are patient comfort and the ease of treatment. There are fewer emergency appointments, and your diet and brushing routines do not have to change. It allows the patient to feel instrumental in their treatment as they are responsible for wearing the aligners and see the results fast!"
How to Get Invisalign Treatment
Gentle Dental has been a healthcare leader in New England for over 45 years, and our award-winning orthodontists are ready to provide your customized treatment plan to meet your specific needs. We know that no two people are alike, and our team works to ensure that you will have the best orthodontic experience possible.
While the cost of Invisalign treatments will vary depending on your specific needs, we offer many payment options to fit most budgets. We accept most dental insurance plans and offer third party financing. Contact a Gentle Dental office nearest to you, speak with our team, and schedule your free consultation today.