Types Of Dentists: Which One Do You Need?
What are the different types of dentists and what treatment do they provide?
Common Types of Dentists
Family Dentist
A family dentist can take care of the dental needs of you and your loved ones, regardless of age. Family dentists promote the education of oral hygiene and perform common oral procedures such as dental exams, cleanings, cavity fillings, sealants, fluoride treatments, and much more.
General Dentist
General dentists are similar to family dentists and provide a wide range of treatments to manage oral health. This includes procedures dental exams, cleanings, tooth extractions, implants, crowns and bridges, and dentures, just to name a few.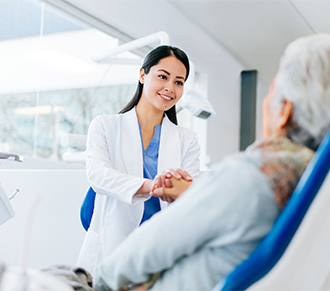 Cosmetic Dentist
Cosmetic dentists focus treatment on improving not only the health, but also the esthetics of the smile to help boost patients' self-confidence. Cosmetic treatments can range from teeth whitening, to dental veneers, to reshaping the gums via a gingivectomy.
Dental Specialities
Periodontist (Gum Specialist)
Periodontists are dental specialists who are trained to manage the oral structures that support the teeth, known as the periodontium. This includes treatment of gum disease with procedures such as scaling and root planning, soft tissue grafts, and bone grafts. Other procedures like replacement of missing teeth with dental implants, and dental extractions are commonly performed by periodontists.
Endodontist (Root Canal Specialist)
Endodontists specialize in treating dental issues involving the inside of the tooth, known as the dental pulp, as well as the tissues surrounding the tooth's root. Endodontists perform root canals and other endodontic surgeries to help manage tooth pain and oral disease.
Pediatric Dentist
Pediatric dentists go through additional training to manage the oral health of infants, children, and adolescents. They are often also trained to treat children who require special oral health needs. Common procedures include dental exams, cleanings, sealants, extractions, fillings, and fluoride treatments.
Orthodontist
Orthodontists focus on correcting the alignment of the teeth and bite to improve the oral and overall health of patients of all ages. Common procedures performed by orthodontists include braces, clear aligners such as Invisalign, retainers, and oral appliances including palatal expanders.
Oral Surgeon
Oral surgeons obtain expertise in treating diseases, injuries, and defects in the head, neck, face, jaws, and mouth. Complex tooth extraction, jaw surgery, biopsy and removal of oral lesions, and dental implants are just a few of the common procedures routinely performed by oral surgeons.
Prosthodontist
Prosthodontists specialize in the diagnosis and treatment of dental issues requiring dental restorations. Prosthodontists often provide patients with dental implants, dentures, crowns, bridges, veneers, and more.
How do I know which type of dentist I need to see?
The type of dentist you need will depend on your specific needs. A general dentist will be able to determine if you require a specialist to help in the management of your dental care and will make the appropriate referral.
Specialty Services Offered by Gentle Dental
As a multi-specialty dental organization, Gentle Dental can help offer top-notch care for your entire family. With the training and expertise of our dental professionals, a wide range of dental services are provided. These services include pediatric dental treatments, endodontics, gum treatments, oral surgery, orthodontics, dental implants, dental crowns and bridges, dentures, veneers, cavity , teeth whitening, tooth extractions, jaw pain, sleep apnea, dental exams, digital x-rays, teeth cleanings, fluoride treatments, oral cancer screenings, and much more. Schedule with our caring team today!