What to expect during your dental implant procedure
What is dental implant surgery?
Have a missing tooth or teeth and looking to improve the quality of your smile? Dental implants are a great option to replace a single tooth or multiple teeth as they both appear and feel natural! A dental implant is a type of oral surgery that involves the use of metal, screw-like posts placed in your jawbone where your teeth used to be located. On top of the screws an artificial tooth, also known as a crown, will be placed. Implants can support single crowns, bridges, and even dentures. The American Academy of Implant Dentistry recognizes two types of implants that your dentist may recommend, including endosteal and subperiosteal implants. Endosteal implants are the most commonly placed implants and can be screws or blades that are surgically placed into the jawbone where your missing teeth are located. On the other hand, subperiosteal implants are placed on top of the jawbone just underneath the gums. Your dentist may recommend subperiosteal implants if there is not enough bone support or based on the shape or health of your jaw. To learn more about Gentle Dental oral surgery, click here.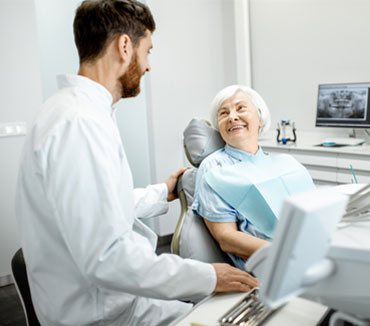 What leads to dental implant surgery?
If you've lost one or more teeth, dental implants can be a great option to help not only improve your smile but also help you chew and speak normally. There are many reasons why an individual may lose a tooth, such as extensive tooth decay that can no longer be restored with a dental filling or crown, severe gum disease, trauma, or a severely fractured tooth due to wear or tooth grinding. Additionally, individuals may be naturally missing a tooth/teeth.
What you can expect from dental implant surgery
Dental implant surgery is a rewarding treatment but can take time as it is typically done in several stages. Before implant placement, if the tooth is not already missing, your dental professional will need to remove the damaged tooth. Then, the jawbone will need to be prepared for surgery, which may require an additional procedure called bone grafting to allow for stability when placing the implant. If a bone graft is placed, it can require months to heal before your jaw is ready to place the actual implant. After the healing process, the implant is inserted, and another healing process typically lasting another 3 or more months is necessary to allow the implant to fuse into the bone before placing an abutment. An abutment is an additional piece that connects onto the screw of the implant. The artificial tooth or crown is then attached to the abutment and implant screw which will complete the full implant.
Preparing for the dental implant surgery
Preparation for dental implant surgery requires patience, as the gums and bone need to be healthy in order for the implant to be placed. Proper oral hygiene practices and regular check-ups with your dentist are necessary to keep your mouth in tip-top shape. Initially, your dental professional will evaluate your entire mouth and take all the necessary radiographs, teeth models, and pictures needed to help plan the necessary procedures. Your dental treatment plan may involve the expertise of several dental professionals, including a general dentist, prosthodontist, maxillofacial surgeon, and/or a periodontist. Reporting your medical history is also important in this initial process, along with any medications you are taking. Your dental professionals will discuss the benefits, risks, and alternative options with you prior to dental implant surgery and answer any questions or concerns you may have before the procedure is initiated.
Procedure
As mentioned, before an implant can be placed, the bone may need to be added to your jawbone to hold the implant in place. Bone grafting typically requires a 4-6 month healing stage after the procedure before the implant can be placed. Once the implant is placed, your dentist may give you a temporary denture while the implant is healing and becoming fused to your jawbone (also known as osseointegration). This healing process typically lasts over 3 months. Once healed, your dentist will place the abutment into the dental implant. After your gums heal once the abutment is placed, your dentist will take a mold of your mouth to help make the new artificial tooth that will be placed on the abutment. Your dentist will also match the shade of the artificial tooth to your existing teeth with your opinion taken into consideration.
After treatment care
Congratulations, your implant is in, now what should you expect? Many implants last a lifetime, but it requires the proper care. Caring for your dental implant is similar to the care required for your entire mouth. Brushing and flossing regularly, and practicing good dental hygiene, in general, is necessary. It is important to pay close attention to your implant making sure to eliminate any food particles that could promote bacteria and inflammation. After the surgery, your dentist may recommend only eating soft foods for a short amount of time. Smoking is also contraindicated for individuals with dental implants, as it can have negative effects on your implants and overall oral condition.
Following the dental implant process, you may experience the following symptoms for several days:
Swelling of the face and gums
Bruising of the gums or skin
Pain at the site of your implant surgery
Minor bleeding
If these symptoms worsen after several days or do not seem to dissipate, be sure to inform your dentist right away.
Schedule a Free Consultation for Implants Today
If you are interested in dental implant restoration, our team of dentists is here to ensure that your implants feel comfortable and natural, giving you a long-lasting smile that feels real and looks authentic.